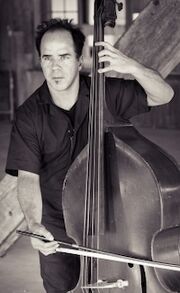 Christopher North Renquist is a songwriter and composer. He has worked in film, theater, and children's TV. He joined the crew of Oobi in season three. He wrote and composed many of the show's original songs, including "Clean Room," "Rockabye Lullaby," and "Trip Wow."

He left Little Airplane Productions, the company that produced Oobi, after the show wrapped. He has since composed scores for a wide variety of films, as well as performed music for Broadway productions.
Bio
Christopher is a genre-crossing musician, having performed and recorded with a wide array of artists and ensembles. He has lived and worked in Brooklyn for most of his career. He is currently an assistant professor at the Berklee College of Music and commutes once a week to Boston, MA.
On Oobi, he wrote and composed the following songs:
Credits
Oobi - Composer and songwriter
Everything's Jake - Score composer
All in Time - Score composer
Two Trains Runnin' - Score composer
Disney Channel - Songwriter for adverts
External links