"Clap Hands!" is an episode of Oobi from season one. Like the rest of the season, it is a short that aired during commercial breaks.
Plot
Oobi and Kako are clapping their palms together to pass time. Uma sees them and asks if she can join, but she's never played a hand-clapping game before. When she and Oobi try to clap together, they swerve in opposite directions and miss each other. They try again with no success.
Kako decides to help, and he teaches Uma how to play. He and Oobi clap together again, this time letting Uma see how they do it. Uma tries to clap with Oobi again and succeeds. Oobi and Kako cheer for Uma and give her a round of applause. An audience cheers from off screen and Uma bows triumphantly.
Characters
Gallery
Trivia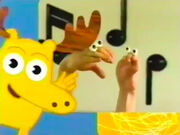 The background seems to be a music studio, since there are music notes all around the room.
In the later episode "Uma Sick", Oobi and Kako play a similar hand-clapping game (pat-a-cake).
In 2003, a clip from this short was featured in a musical Noggin commercial called Use Your Noggin. The commercial lists different ways to "use your Noggin" (use your head to think), one of them being when you shout "hooray." To demonstrate, the end of the short is played, showing Oobi and Kako cheering for Uma.