"Dance!" is an episode of Oobi from season one. Like the rest of the season, it is a short that aired during commercial breaks.
Plot
Grampu brings a boombox outside, and each of the kids gets a turn to dance along to the music. Oobi is the first to take a turn. He dances to an upbeat tropical tune by swinging his fingers back and forth. He invites the viewers to dance along with him: "Oobi dance, you dance." Uma, Kako and Grampu nod their heads to the beat until Grampu stops the music and asks Uma to take a turn.
Like Oobi, Uma asks the viewers to dance along. A fast-paced piano tune starts playing, and Uma dances in an energetic and jumpy way. When Grampu stops the music, Kako is supposed to take his turn but instead keeps laughing with Oobi, from a conversation they were having off-screen. Grampu whispers and notions to Kako that it is his turn. Kako hastily says "Oh! Kako dance, you dance," like Oobi and Uma did earlier. He starts to dance awkwardly and scats a tune before Grampu gets a chance to start the music. Grampu interrupts him and presses play on the boombox. The entire group later dances together.
Characters
Gallery
Trivia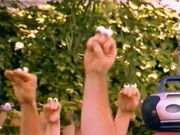 A clip from this short is included as a special feature on two Nick Jr. videos: the Blue's Clues DVD "Shapes and Colors" and the Dora the Explorer DVD "Rhymes and Riddles".

Currently, the DVD version is the only one that has been found. The broadcast version was longer and ended with Grampu and the kids all dancing together. Footage from the "lost" ending was used in a Noggin commercial, but the full short is still unavailable online.

Zap2it, a website for official TV listings and schedules, has this short listed as the first episode in the series. MSN TV's website also listed it first. Since there was never an official broadcast order for the shorts, "Dance!" is usually said to be the first one. It's unknown which short was actually made or aired first.
Kids First, a group that screens family short films, featured this short as part of its 2001 film festival. (source)