"Flush!" is an episode of Oobi from season one. Like the rest of the season, it is a short that aired during commercial breaks.
Plot
Uma thinks the sound of a toilet flushing is hilarious. In the bathroom, she flushes the toilet again and again. Grampu laughs along at first, but he soon gets annoyed and tells Uma that he's had enough of the noise. Uma decides to imitate the toilet flushing by moving her thumb up and down. She later convinces Grampu to join her, and they do a "flushing" dance together.
Characters
Gallery
Video
Trivia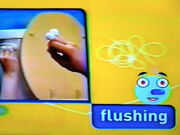 This is one of only three shorts where Oobi isn't featured. The others are "Bird!" and "Bongo Drums!".
A scene from this short was used in Noggin's sign-off bumper from 2002 to 2003. The bumper was a music video about bedtime routines.
As seen in this short, Uma used to call Grampu "Gampu" because she was young and couldn't say his name right. In the later seasons, Uma has no problem saying his name, aside from one time.