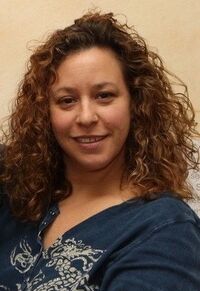 Heather Asch is a puppeteer, director, and puppet builder. She joined the cast of Oobi in season two as a regular performer. She played Moppie, Uma's best friend. She also played a few one-time characters.
Heather has puppeteered on television and stage productions since the early 1990s. She has worked with Sesame Street and the Muppets, as well as on the Nick Jr. shows LazyTown and Allegra's Window.
Bio
Heather Asch is a graduate of the University of Connecticut's Puppet Arts Program, and she has created her own puppetry pieces, including Bosom Buddies, which deals with the subject of breast cancer. Heather performed Bosom Buddies at "A Passion For Puppetry", a tribute benefit to Nikki Tilroe in January 2006.
Heather also works at the puppet workshop 3/Design. She serves as the executive director and producer for No Strings Productions, a nonprofit organization that creates puppetry videos for children.
Roles
Gallery
Other credits
Allegra's Window - Vi, Grandma
Between the Lions - Click the Mouse, Clay Pigeon, Smarmy Marmy Smartie Pants
Sesame Street - Hansel
The Wubbulous World of Dr. Seuss - Assistant puppeteer
A Muppets Christmas: Letters to Santa - Background characters
It's a Big Big World - Puppet department head
LazyTown - Assistant puppeteer for Trixie
Nick Jr.'s Play Along - Pinky, Lefty
Pigeon-Holed - Miss Fork in the Outlet
Johnny and the Sprites - Root the Earth Sprite
Leslie Carrara and Lolly's Spunkinsass (CD) - Voice of Armond
External links
Community content is available under
CC-BY-SA
unless otherwise noted.