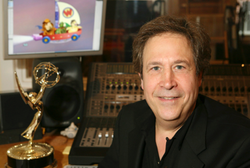 Jeffrey Lesser is a music producer, songwriter, and sound designer. He joined the crew of Oobi to write the song "Oobi and Grampu," which was used for the "Fishing!" episode. He stayed at Little Airplane Productions, the company that produced Oobi, for many years afterwards and eventually became its musical director.
He has worked on most of Little Airplane's other shows, including Wonder Pets and 3rd & Bird. He is a close friend of Oobi's creator Josh Selig.
Bio
Jeffrey has produced records for Barbra Streisand (Lazy Afternoon) and Loudon Wainwright III (History), among others. He was a music director and producer at Little Airplane for thirteen years, having left the company in 2015 after working on their then-upcoming show P. King Duckling. In 2016, he produced and mixed "Jason's Song (Gave It Away)" for Ariana Grande's album Dangerous Woman. He also scored Welcome to the Wayne, a cartoon for Nickelodeon.
In 2009, Josh Selig interviewed him about his experience on Oobi:
Lesser: "As you know, my first experience with Little Airplane was on the 'Oobi' show. There was a song in the middle of the Fishing episode that was struggling to find its feel. Grampu and Oobi were sharing a beautiful bonding moment as they sing 'The Fishing Song' on the side of a lake. Before my involvement, several approaches to this song didn't seem to capture the scene's sensitivity. So you asked me to take a shot at re-imagining the song. I took it to a place of innocence. What if the music sounded like these two characters were sitting around a campfire and they were playing all the instruments themselves? The approach worked. Sometimes simple is best. This song sparked the beginning of our incredible relationship at Little Airplane that continues to this day." (source)
Credits
Oobi - Songwriter and composer
Wonder Pets - Composer
3rd & Bird - Composer
P. King Duckling - Composer
Welcome to the Wayne - Composer
Lazy Afternoon by Barbra Streisand - Producer
History by Loudon Wainwright III - Producer
Grown Man by Loudon Wainwright III - Producer
Dangerous Woman by Ariana Grande - Producer and mixer for "Jason's Song (Gave It Away)"
External links
Community content is available under
CC-BY-SA
unless otherwise noted.