"Kako Dinner!" is an episode of Oobi from season three.
Summary
Oobi goes to Kako's house where his dad, Papu, prepares a very special meal. Oobi hears new music, tries new foods, and plays some new games. Oobi likes it at Kako's house! — NickJr.com (source)
Plot
Oobi is in the living room, playing with his toy car. He explains that he's going to Kako's house for dinner. Grampu walks him to Kako's door, and they hear maraca music playing. Grampu knocks on the door and Papu, Kako's dad, answers. Grampu says "goodbye" as he goes out to dinner and Oobi follows Kako inside. While Papu makes dinner, Kako shows Oobi his collection of family photos. Oobi notices that Mamu is in a lot of the photos, but she's not home. Kako explains that she works at an office and isn't always around.
Next, Kako shows Oobi a few keepsakes that he bought on vacation, including a basket from Alaska, a drum from Kenya, and a maraca from Mexico. Kako lets Oobi play the maraca, and they invite the viewers to imitate the sound of a maraca with them. After playing, Oobi notices a painted rock. Kako says he painted it himself. Oobi asks where it's from and Kako tells him that it wasn't from a family trip, but from a "backyard trip."
Papu calls the boys to the dining room, where Papu has made a dinner of okra, fish, and rice. Oobi doesn't touch the okra at first. Papu explains that it's a great-tasting vegetable and that he used an old family recipe to prepare it. Oobi tries it and ends up loving it. The next scene is an interview segment, where Uma asks a girl wearing a sari dress about her family and heritage.
The scene cuts to Oobi and Kako playing leapfrog. Papu turns on a radio and dances with Kako. Oobi is nervous and doesn't want to join at first, but he soon dances along with them. After dancing, Grampu brings Oobi home. He asks if Oobi liked Kako's house, but Oobi tells him that he didn't. He then explains that he loved it. Grampu laughs, and Oobi waves "goodbye" to the viewers, ending the episode.
Characters
Gallery
Scenes
Production photos
Trivia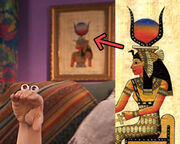 One of Papu's framed photos is a picture of the Egyptian goddess Hathor. It can be seen during the dancing scene. The Eye of Horus, another Egyptian symbol, is seen in the hallway.
Mamu and Papu were both played by the same person: Frankie Cordero.
This is the first time Mamu is seen. Before this episode, she had only been heard from off-screen in "Sleepover!". She later makes an in-person appearance in "Theater!", where she is part of the audience.
Kako reveals that he has been to Alaska, Kenya, and Mexico.
Tim Lagasse's sleeve can be seen briefly when Oobi and Grampu walk to Kako's door.
When the living room is first shown, there is an abstract black-and-white painting of Oobi on the wall. This painting was based on a 2003 production photo of Oobi. Since 2012, the painting has been on display at Little Airplane Productions in New York.