Oobi is an American children's television show. It was created by Josh Selig and produced by his company, Little Airplane Productions, for Nickelodeon and its sister network Noggin.
The characters are bare-hand puppets with eyes and accessories. The concept is based on a training method used by puppeteers, in which they use their hands and a pair of ping pong balls instead of a full puppet. The show won many awards during its run, most notably from Parents' Choice and the Television Academy.
The first season was a series of two-minute shorts that ran during commercial breaks. The second and third seasons were made up of longer 13-minute episodes. A total of 48 shorts and 52 long-form segments were made, and they aired from 2000 to 2005. A foreign adaptation of the show, Oobi: Dasdasi, premiered in 2012.
Plot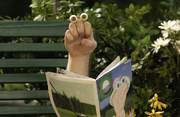 The show takes place in a neighborhood where bare hand puppets talk and act like people. The main character is a boy named Oobi, who lives in a quaint house with his overdramatic sister Uma and his hapless grandpa Grampu. He is best friends with an African-American hand named Kako, who lives across the street. Kako spends so much time with Oobi that he is almost an honorary family member. Together, Oobi and his family have funny, simple adventures that celebrate the awkward steps of growing up.
The characters have a very simple manner of speaking, meant to mimic how kids talk in very early childhood. They use first-person pronouns. For example, "Uma, school, first day" is said instead of "It's my first day of school." In the season one shorts, each story focused on the puppets learning about a very basic topic: music, art, play, or nature. The long-form episodes feature bigger, more involved stories and a series of interviews, where the characters talk with real families about the episode's topic.
Episodes
48 shorts and 52 long-form segments were made: a total of 100 individual stories.
The show started as a series of shorts, which aired during commercial breaks on Nick Jr. and Noggin. Each short is one to two minutes long, and each long-form episode is 10 minutes long. The episodes were usually aired in pairs to fill up half-hour timeslots. Oobi has three seasons in all: one season of shorts and two seasons of long-form segments.
Characters
There are four main characters: Oobi, his sister Uma, his best friend Kako, and his grandfather Grampu. The show also features a supporting cast of townspeople and friends who occasionally join in on the main family's adventures.
History
Creation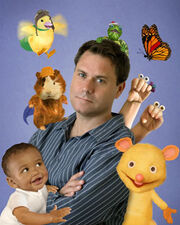 Josh Selig came up with the idea for Oobi while watching puppeteers audition for Ulica Sezamkowa, the Polish adaptation of Sesame Street. They used only their hands and pairs of plastic eyes, which inspired Selig to consider making a show about super-simple, "rudimentary" hand puppets. (source) He turned to Martin P. Robinson and Tim Lagasse to help him develop the idea, and they built the acrylic eye props that would later become the Oobi characters' costumes. (source)
In 1999, Nickelodeon started seeking pitches for shows to put on its then-upcoming cable network Noggin. Selig pitched Oobi under the working title "Pipo," and it was turned into a series of two-minute shorts. For Oobi, Selig assembled a cast of puppeteers made up entirely of Muppet alumni. Tim Lagasse played the main character Oobi, while Stephanie D'Abruzzo, Noel MacNeal, and Tyler Bunch rounded out the rest of the main cast.
The first season (the short-form season) was filmed in 1999 and started airing in 2000. For season two, Oobi became a long-form series. This season was filmed from January to February 2003, and season three was filmed from January to February 2004. (source)
Filming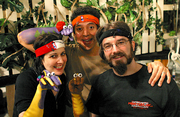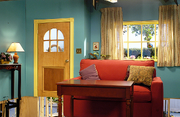 Oobi was filmed at Kaufman Astoria Studios in New York. The set pieces were built on tall wooden poles, positioned to be level with the puppeteers' hands when they raised their arms. This kept the actors' heads out of the camera frame and allowed them to walk normally while performing, making their puppets' movements as smooth as possible. TV monitors were placed below the sets so the puppeteers could watch their motions and position their characters for each scene. The actors wore hands-free headsets that recorded their dialogue, making them able to perform and voice their characters at the same time.
Many of the sets for Oobi were made to evoke the appearance of old-fashioned home environments. To simulate natural window light in the studio, the crew placed shades with foliage patterns over their studio lights. This gave the appearance of sunlight passing through trees. Green screens were used for the sky of the outdoor sets and for the windows of Oobi's house. (source)
Every week during production, the puppeteers visited their local manicurist to get their fingernails touched up. The male puppeteers, such as Tim Lagasse, also had to shave their arms regularly if they played younger characters. Josh Selig said in a 2004 interview that Lagasse had to shave often so that Oobi wouldn't "look like a hairy kid." Tyler Bunch was told specifically not to shave, as his natural arm hair gave Grampu the appearance of an elderly, hairy grandfather. (source)
Broadcast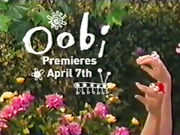 The original short-form season of Oobi aired on both Nickelodeon and Noggin. Nickelodeon aired them on weekday mornings during its Nick Jr. block. On Noggin, the shorts aired daily before each 30-minute show from 6:00 AM until 6:00 PM. (source)
The first four long-form episodes were simulcast on Nickelodeon and Noggin on April 7, 2003. (source) The show's third and final season finished on February 11, 2005. Reruns continued to air on Nick Jr. until spring 2013, when most older programming was taken off of the lineup. The show was available on the Noggin mobile app from May 2015 until March 2020. In January 2021, Oobi was added to Paramount Plus.
Oobi has been shown in many territories outside of the United States. After it ended its run in 2005, it was sold to 23 international markets. (source) A few foreign-language dubs were made, including:
The original English version has been aired on ABC Kids in Australia, on AFN Prime, and on TVOntario in Canada. Nickelodeon's channels in Pakistan and the Philippines have also aired the show.
Events
Noggin hosted a few live events that featured Oobi. The first was the Oobi educational tour, which was open from June 2001 to 2002. It was part of the North American Trade Show Tour in Saint Paul, Minnesota. At the tour was a replica of Oobi's house, complete with a sunflower display and a mailbox. Visitors could take a photo with the display and get info about Noggin, which was still a new channel at the time.

In November 2001, Noggin featured the Oobi shorts as part of a film festival called Kids First. In June 2002, the restaurant chain Jillian's held a weekly event called Noggin Play Days. Visitors could watch a live feed of Noggin with themed activities. The Oobi shorts were featured as part of the live screenings, and a few of the activities were centered around the show.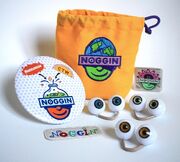 From April 2004 to July 2006, Noggin held a monthly event called Club Noggin at malls across America. The club featured different characters each month, and attendees could watch the characters and make crafts based on them. Oobi was the featured character a few separate times, starting in September 2004. (source)

In November 2007, the Nick Hotel in Orlando, Florida started a promotion called "Noggin Month". One of the events was Oobi Arts and Crafts, based on the Oobi episode "Make Art!". Visitors could make Oobi-themed crafts and take home a pair of official Oobi Eyes. (source)
Foreign adaptation
One of Iran's national TV channels, IRIB TV2, started airing its own adaptation of Oobi in 2012. It was called Oobi: Dasdasi. Like the original show, Oobi: Dasdasi follows a family of bare-hand puppets, but it includes a variety of new characters and is more focused on comedy. Some of the props were exact replicas of Oobi, Uma, and Kako's eyes. (source)
None of the original crew members were involved in Oobi: Dasdasi. It was produced and directed by Negar Estakhr and Amir Soltan Ahmadi, two of Iran's foremost puppeteers. The two puppeteers were inspired to start the show after they attended a 2011 screening of Oobi in English. In an interview with the newspaper Jaam-e Jam, Estakhr said that they wanted to make their own tailored version of Oobi, localized to connect with a new audience. (source) 78 eight-minute episodes were made. The show ran from September 22 to December 20, 2012, and reruns still play on IRIB. (source)
Links