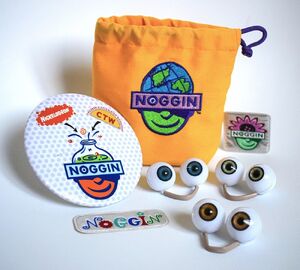 Nickelodeon gave out toy versions of the Oobi puppet eyes at two events: Club Noggin and Oobi Arts and Crafts.
Club Noggin was held at malls across America from 2004 to 2006. Each month, it featured a different character as the theme, one of them being Oobi. The Arts and Crafts session was held in 2007 at the Nick Hotel in Orlando. Attendees could watch a screening of "Make Art!" and pick up a pair of official Oobi Eyes. (source)
Official eyes
The official replicas were only given out at Club Noggin and the Nick Hotel. These eyes were posable, and they had peach-colored bands/rings that could be bent to fit on any finger.
OobiEyes.com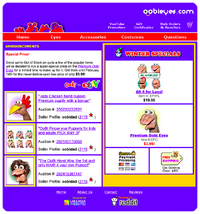 In 2006, an unofficial website called OobiEyes.com started selling its own replicas of Oobi Eyes. It was completely operated by fans, with no connection to Noggin. It mainly sold "premium" eyes that were exact likenesses of Oobi, Uma, and Kako. It also sold costumes, wigs, and off-brand googly eyes.
This site was very popular with fans of the show. In 2008, it launched an advertising campaign with YouTube that inspired a lot of fan-made videos with Oobi Eyes. (source) The website closed in 2013 after supplies ran out. As of 2020, the eye puppets from OobiEyes.com still pop up on eBay from time to time.
Although it was unofficial, the site was recognized by Nick Jr. on its Facebook page, and Nickelodeon Pakistan features a photo from OobiEyes.com on its website.
Links
Community content is available under
CC-BY-SA
unless otherwise noted.