About the Show
Oobi is a television series that stars a cast of bare hand puppets played by Muppet performers. It was created by Josh Selig, a former Sesame Street writer whose work with Sesame Workshop spans over thirty years. The exceptional puppetry on Oobi was intended to captivate a young audience, but like Sesame Street, the show's oddly enduring concept has managed to win over parents and puppet fanatics alike.
The title character is the most literal form of a hand puppet, with no fur, feathers, or clothing—only a pair of expressive acrylic eyes and accessories. Each story features Oobi exploring the world around him along with his younger sister Uma, his best friend Kako, and his grandfather Grampu. The show was filmed at Kaufman Astoria Studios and aired on Noggin. Read more about the series here!
Puppet Poll
Who is your favorite character?
Featured Quote
"
Birthday? Big deal.
Lost puppy? Big deal.
Alien spaceship? Really big deal!
Messing up? No big deal. Messing up, just...life.
"
Did You Know?
An Iranian adaptation of Oobi, titled Dasdasi, was created in 2012.
Josh Selig, the creator of Oobi, was inspired to develop the show after watching puppeteers on the Polish version of Sesame Street perform with their bare hands.
According to a 2007 article published in the Kidscreen magazine, Oobi was first pitched to Noggin under the working title Pipo.
Oobi has been dubbed in a variety of different languages. A list of dubs is available here.
Welcome to the Oobi Wiki!
Meet the Characters
Click here to view the rest of our character articles!
Featured Episode: "Dinosaur!"
"Dinosaur!" is an episode of Oobi.
Plot

Oobi illustrates a storybook about a group of dinosaurs who embark on a mission to find their way home. When he reads it aloud to his friends, they imagine it playing out in an Oobi-style world of prehistoric hand puppets.
Cast

Click here to view the cast for this episode.
Gallery

Click here to view this episode's gallery.

Trivia

This episode marks the last appearance of Fritz, the family's garden gnome. Fritz resembles a porcelain statue of a hand puppet with a faux beard and a green coat.
Inka, Grampu's girlfriend, does not appear in the main story but can be seen in an interview segment at the end of the episode.
Photos from this episode were included in the October 2004 issue of Playthings.

Featured Character: Randy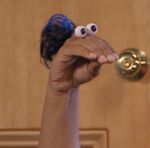 Randy is a minor character in Oobi. He is performed by Kevin Clash, who is best known for being the original performer of Elmo on Sesame Street.
Description

Randy is Oobi and Uma's babysitter. He gives them the nicknames "Oobi-Dude" and "Uma-Zooma." When they first meet, Uma does not appreciate Randy's efforts to bond with her. He eventually wins her over by dancing with her doll to polka music. She nicknames him "Randy-Candy."

Appearances

Randy guest stars in the "Babysitter!" episode. Although this is Randy's only appearance, Kevin Clash also plays several background characters in later episodes.

The fishing pier is a minor location in Oobi.
Description

The fishing pier is where Oobi and Grampu sit when they go fishing. It is home to seagulls and fish, all of which are represented by hand puppets in costumes. The pier appears to be located on the outskirts of the state park.

Appearances

The fishing pier is visited in one episode of Oobi: "Fishing!"