"Peekaboo!" is an episode of Oobi from season one. Like the rest of the season, it is a short that aired during commercial breaks.
Plot
Oobi, Uma, and Kako are at the playground. Uma asks to play peekaboo, and the boys agree to. They cover her with their palms and then uncover her. Uma forgets what to do next, so Oobi whispers for her to say "peekaboo." She gets the hang of it and they repeat the game a couple times.
Kako wants to have a turn, so he walks between Oobi and Uma as they play the game with him. Oobi takes a turn and then notices the viewers. He asks if they would like to play peekaboo as well. The camera is covered and later uncovered, revealing Oobi, then Kako, then Uma. The kids laugh together as they finish their game and the episode ends.
Characters
Gallery
Trivia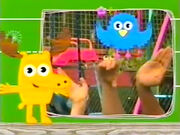 In April 2003, the scene showing Oobi's turn was featured in an alphabet-themed commercial for Noggin. The commercial was also available as a video on NickJr.com. (source)
This short uniquely features a cameraperson's hands as a "character" of their own, covering the screen for the viewers. This never happens anywhere else in the series.
This short was mentioned in Noggin's original summary of Oobi from 2001. The summary said the show was "about the stage in a young child's life when everything is new and incredible; a flower, a cat, peek-a-boo." (source)