"Valentine!" is an episode of Oobi from season three.
Summary
Oobi and Uma make a valentine for Grampu. They receive a "mystery valentine" from the letter carrier and try to figure out who the mystery valentine is. They follow a trail of hearts to discover their mystery valentine. — NickJr.com (source)
Plot
Oobi is in his room, putting a Valentine's Day card together. He shows his card to Uma, and she asks if she can help. Oobi lets her choose a shape to put on the front of the card. She picks a pink heart. After Oobi finishes the card, he reveals that he was making it for Uma. She hugs him and gets the idea to make another card, this time for Grampu.
The next scene shows Grampu sewing a festive Valentine's Day costume together. He puts it away when Oobi and Uma walk up to him. The kids give Grampu a new card, and he thanks them both. The doorbell rings, and the family walks to the front door.
A mailman named Cliff is at the door, holding a heart-shaped paper. Grampu takes the paper, thanks Cliff, and reads it aloud to his grandkids. It's addressed to them from a "mystery valentine" and says that a trail of heart-shaped cards will lead to the sender. Oobi and Uma get really excited, and they're determined to figure out who their mystery valentine is.
They spot a card in the front yard, where Kako greets them. He's carrying a whole wheelbarrow full of cards. He takes two and gives them to Oobi and Uma. They ask Kako if he is their mystery valentine, but he assures them that he's not. He leaves to deliver the rest of the cards to his friends. As they say "goodbye" to Kako, Oobi and Uma notice another card by the windowsill. They walk over to it, but they're interrupted by a delivery woman, who has a letter and a bouquet of balloons for Grampu.
Grampu walks outside and tells the kids that the note is from Inka. He sighs lovingly as he takes the letter inside. As Oobi and Uma watch Grampu, they find another card in a nearby tree. It leads them to the backyard. While they continue searching, an interview segment plays. It involves Kako talking to kids about Valentine's Day.
The scene cuts back to Oobi and Uma, who've found another card taped on the back door. They open it and see Grampu inside. He's dressed in the heart-shaped costume from earlier. Grampu wishes Oobi and Uma a happy Valentine's Day and hugs them. Oobi says "goodbye" to the viewers, ending the episode.
Characters
Gallery
Scenes
Production photo
Trivia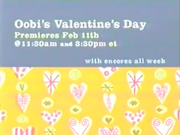 According to photo data on the Glass Wings Puppetry website, this episode was filmed on January 23, 2004. (source, see metadata)
To advertise this episode's premiere, Noggin ran a special commercial for it. It showed the channel mascots, Moose and Zee, getting a valentine card from Oobi and hugging him. It can be watched here.
This and "Halloween!" are the only two holiday-themed episodes of the show.
After its premiere, Noggin showed a rerun of this episode every year in February. In 2008, two reruns of the episode were featured in a valentine marathon. (source) It continued to air each year on Nick Jr. until 2013.
This is the first episode to confirm that Uma knows who Inka is. They're never seen together in the same scene, since both roles were played by Stephanie D'Abruzzo.
Printables
In February 2005, Noggin.com uploaded a set of four printable cards based on this episode. Oobi, Uma, and Grampu all had their own valentine cards, and the fourth card featured all of them plus Kako. The cards were on Noggin.com until mid-2009.